Chanukah in Zilina 2009 – 5770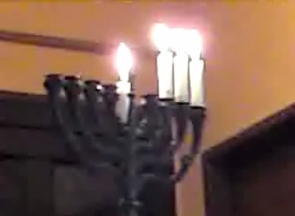 Ner micva – Chanukah is yet another traditional occasion, when we meet to celebrate a miracle of light. This year Chanukah party took place on December 3, 2010 – Kislev 26, 5771 on the third day of the Chanukah holiday.
Although a traditional guest of our celebrations Rabbi Zev Stiefel did not come this year, atmosphere in the villa Kompas, where the celebration has returned after few years, was pleasant and festive.
We reminded us the story of Chanukah light that shined eight days, despite of the oil supply to last only for one day.
Performances of the youngest participants added to the festivity of the occasion.
After the first candle was kindled with a help of "Shamash", celebration turned to informal discussions among the friends that gathered to celebrate this holiday.
The plenty of refreshments and donuts and especially, were the finishing touches to the truly festive atmosphere.